Every experience in life teaches us something. Lots of people have had covid now, sadly too many people have died, and many people have had greater disease severity and more serious health consequences than me. I am grateful that my covid experience wasn't any worse.
In this blog I share my covid experience, what I learnt (personally and as a scientist), what I did nutritionally to support my health and three game changers for my recovery.
My Covid-19 experience
After 2 and ½ years of escaping it, I caught covid on 1 July. With only an early morning sore throat to prompt a test I thought I would be not too unwell since I was double vaccinated and boosted. Not so … as a nutritional practitioner I was challenged to support my health recovery and gained a new perspective on migraines, light sensitivity, and fatigue.
As the GP advised the first 4 weeks is the acute phase of covid. I was in bed for 5 days with cold like symptoms, fever, fatigue, heart palpitations and 'a headache and nausea' like the worst hangover. My chest was initially tight and on days 2 and 3 I experienced some breathlessness (spO2 briefly dropped to 86% twice but rose back to normal within a few hours). To my dismay for next few weeks though, I had blinding headaches and light sensitivity. Do you know that 10-15% of covid cases can experience light sensitivity? I took a lot of paracetamol and ibuprofen in that first two weeks and found a lovely sleep healing mediation album. I was initially wearing my shades inside, asking the family to turn off lights in the evening and pulling blinds to half-mast. I couldn't read a book or watch tv for nearly a month. I couldn't use a screen for more than a few minutes before dizziness and blurred vision set in and any longer brought on the headaches. By day 8 I realised my recovery was going to be much longer than I'd expected.
For another month I was in the recovery phase doing everything I could to prevent long covid. My colleagues, business coach and my own professional research enabled me to choose supplements to help me, one of my lovely clients taught me a Bowen technique so I could release the tension on the occipital muscles at the back of the head, my best friend kept me sane with her daily check in text messages, I listened to audio books and most of all my family and friends were there for me.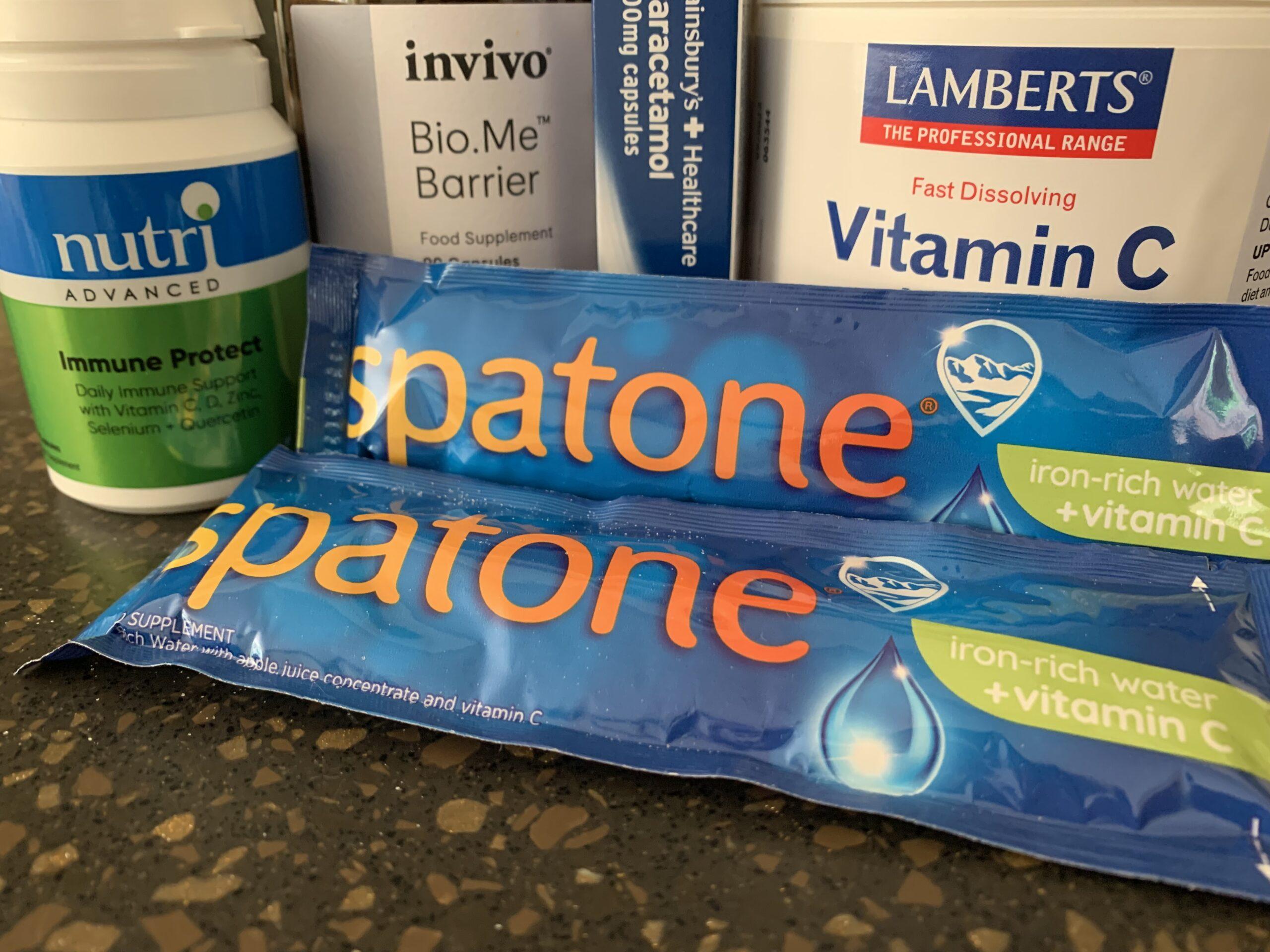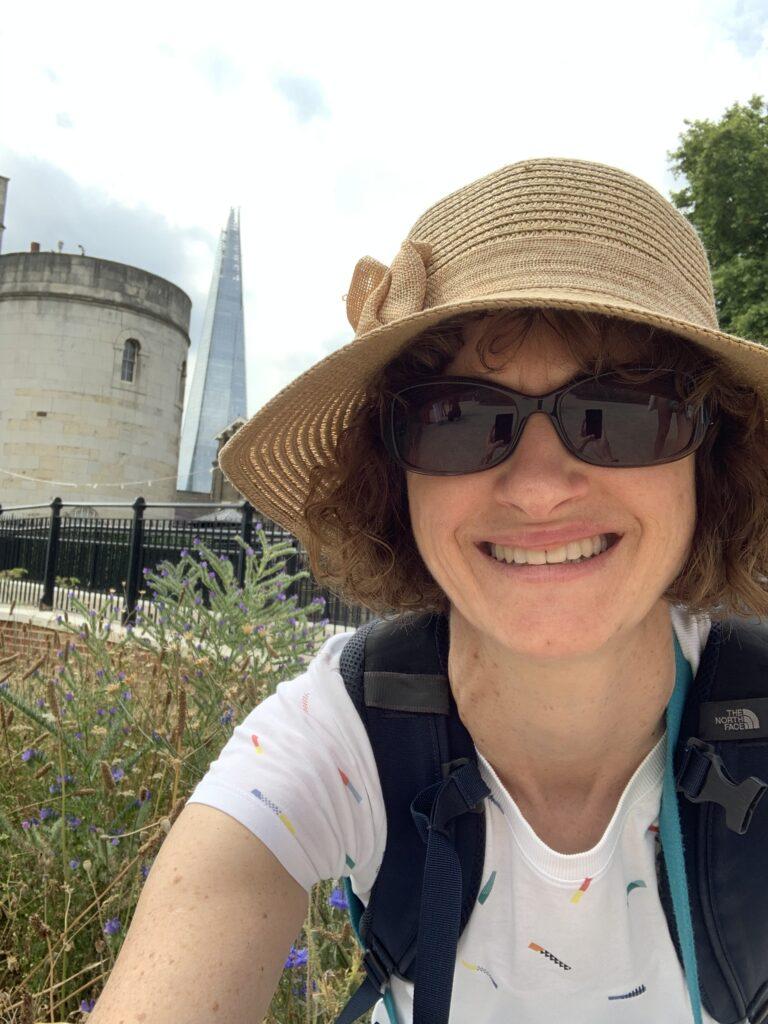 "My luxury eye mask from Amazon became a daily necessity and I spent the summer of 2022 in shades and a sunhat"
I attempted to work for a few days in week 2 and stopped, then again in week 4 which triggered a migraine (I used Migraleve for the first time). I had my eyes tested at Boots optician at the start of week 5 and gained the reassurance that my eyes were clinically ok, and the light sensitivity would most likely decrease as the headaches went away. For weeks 5 and 6, I returned to work a few hours a day (mostly in person to avoid screens) but the headaches persisted, and I needed to rest my eyes for at least an hour every day. Digestive symptoms were troubling me too then. I began to watch a little tv as long as the pictures weren't too fast moving (not action movies, lol). In weeks 7 and 8 I went on holiday with my family. I swam in the sea everyday if it wasn't raining and focused on rest, eating, short walks and audio books. By week 8 my headaches only came with tiredness and my eyes were improving each day. I could read a few pages of a book each day again, yay!
Since week 9, I've been back at work again, but pacing myself to allow my body to fully recover.
What did I Learn?
The importance of antioxidants like glutathione, alpha lipoic acid, resveratrol to protect the body's cells from damage. When a virus impacts the mitochondria – 'batteries in the body's cells' that make energy they shift from making energy to an inflammatory response, making reactive oxygen species which can result in injury to cells in the body.[4]
Lactobacillus Rhamnosus GG, anti-inflammatory, evidence for this bacterial strain (e.g., increasing immune cell IL10 response and decreasing pro inflammatory immune cell Th1) [5]
The SARS Cov-2 infection can alter the gut microbiota composition [6],[7]. Imbalance in the gut bacterial population may lead to digestive symptoms (e.g., constipation, abdominal pain) and can impact the immune system, energy production.
Amino acids (protein) and the role they can play in covid recovery and post-COVID fatigue. In Italy, a new supplement Amino-Ther Pro containing nine essential amino acids in addition to key nutrients for the energy cycle was found to have positive effects on sufferers of COVID fatigue (33) in an observational case study [8]
One of the effects of SARS COV-2 can be reactivation of latent viruses (e.g., Herpes Simplex virus 'the common cold sore' or more seriously Epstein-Barr virus). I experienced two cold sores during covid and used to get them in the past.
---
What I did Nutritionally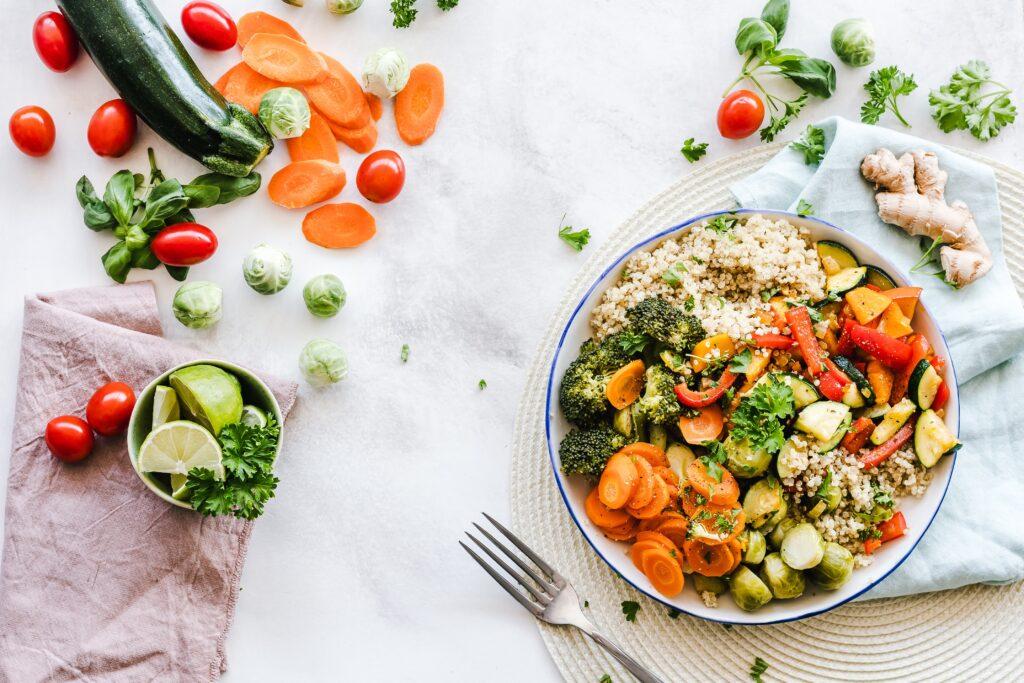 > Ate a balanced diet and kept inflammatory foods such as dairy, soy, corn, and sugar low.
> Digestive support with flaxseed, kiwifruit, oats, and other wholegrains, prebiotics, and probiotics.
> Supplements to help my immune function and energy production. The table below shows the nutritional supplements I chose to use during my acute phase and recovery phase of covid.
> Supplements to elevate my antioxidant levels to support reducing the impact of inflammation on my body.
Table – Nutritional supplements used for my covid recovery
Acute Phase (month 1)
Recovery Phase (month 2)
Weeks 1 & 2
Vitamin C (high)
Vitamin D (high)
Iron
Invivo Bio Me Barrier (Probiotic)


Weeks 5-8
Multivitamin (daily)
Vitamin D 2000 IU
Vitamin C 500mg
Invivo Bio Me Essential (Prebiotic)
Digestive enzymes and L-Glutamine
Invivo Bio Me Barrier (Probiotic)
Weeks 3 & 4
Vitamin C (high)
Vitamin D (high)
Iron
Pure Encapsulations L. Rhamnosus (Probiotic)
Cell Active Glutathione
Weeks 9 & 10
Multivitamin (daily)
Vitamin D 2000 IU
Vitamin C 500mg
Invivo Bio Me Essential (Prebiotic)

Disclaimer: This is a nutritional supplementation approach personalised to my health history and COVID symptoms. Please ensure you contact your GP and/or seek the advice of a nutrition practitioner if you are struggling to recover from COVID.
I also used homeopathic Gelsemium in week two for my cold like symptoms and headaches and Arnica daily in month two until the headaches reduced in intensity and frequency.
3 game changers in my recovery
Vitamin D – for the immune system and as an anti-inflammatory. I increased my dose from week 3 taking a separate dose in addition to the 1000IU already in my multi vitamin.
Probiotics – the covid virus can impact digestive health and whilst I had maintained fibre, water, prebiotic and probiotic foods I still found myself with digestive symptoms in week 5. A course of probiotics to replenish the good bacteria that are so important for immune function and energy production helped to restore my digestive fitness.
Rest – it takes time for the body to fight this virus and a lot of rest. After month one, I rested at some point every day from week 5 – 8 until the headaches stopped and my eyes started to improve.
Now what?
Personally, I'm taking care to manage my stress, working with the energy capacity I have and am resting my eyes each day as they continue to improve.
Professionally, I'm helping my clients
with their energy levels, immune function, and digestive health
test to know their gut bacterial signature which can be altered by the covid virus and supplement if necessary to restore the balance of good bacteria for immune function and energy.
encouraging all my clients to review their vitamin D sufficiency. In autumn and winter, the government guideline recommends a supplement of 10 micrograms [9] and higher doses may be required if vitamin D levels are tested and found to be low. Please contact your GP if you are concerned or want to know your Vitamin D levels.
And of course, I'll be keeping up to date with the latest covid research especially in relation to digestive health.
I hope you've found this interesting and informative. You can chat to me about covid recovery, digestive health, tiredness, anxiety, joint and muscle pain and weight management.
Book a FREE call to meet me using this link
---
[1] Gangaputra SS, Patel SN. Ocular Symptoms among Nonhospitalized Patients Who Underwent COVID-19 Testing [published online ahead of print, 2020 Jun 22]. Ophthalmology. 2020;S0161-6420(20)30574-1. doi:10.1016/j.ophtha.2020.06.037
[2] Ceran BB, Ozates S. Ocular manifestations of coronavirus disease 2019. Graefe's Archive for Clinical and Experimental Ophthalmology. 2020;258(9):1959-1963. doi:10.1007/s00417-020-04777-7.
[3] Rokohl AC, Loreck N, Matos PAW, et al. More than loss of taste and smell: burning watering eyes in coronavirus disease 19 (COVID-19). Clinical Microbiology and Infection. 2020. doi:10.1016/j.cmi.2020.08.018.
[4] Kalish, D., Hope for long haulers: how mitochondria and ACE2 receptor deficiency should be a target for COVID recovery, IHCAN, 2022 July
[5] Gorbach S, et al. Lactobacillus rhamnosus GG. The Microbiota in Gastrointestinal Pathophysiology; 2017: 79-88.
[6] Zuo, T., Wu, X., Wen, W., Lan, P., Gut Microbiome Alterations in COVID-19,Genomics, Proteomics & Bioinformatics, 2021 19(5)
[7] Li S, Yang S, Zhou Y, Disoma C, Dong Z, Du A, Zhang Y, Chen Y, Huang W, Chen J, Song D, Chen Z, Liu P, Li S, Zheng R, Liu S, Razzaq A, Chen X, Tao S, Yu C, Feng T, Liao W, Peng Y, Jiang T, Huang J, Wu W, Hu L, Wang L, Li S, Xia Z. Microbiome Profiling Using Shotgun Metagenomic Sequencing Identified Unique Microorganisms in COVID-19 Patients With Altered Gut Microbiota. Front Microbiol. 2021 Oct 11;12:712081. doi: 10.3389/fmicb.2021.712081. PMID: 34707577; PMCID: PMC8542975.
[8] Landi F, Martone AM, Ciciarello F, Galluzzo V, Savera G, Calvani R, Picca A, Marzetti E, Tosato M, On Behalf Of Gemelli Against Covid-Post-Acute Care Team. Effects of a New Multicomponent Nutritional Supplement on Muscle Mass and Physical Performance in Adult and Old Patients Recovered from COVID-19: A Pilot Observational Case-Control Study. Nutrients. 2022 May 31;14(11):2316. doi: 10.3390/nu14112316. PMID: 35684113; PMCID: PMC9182906.
[9] Scientific Advisory Committee of Nutrition (SACN), UK Government Dietary Recommendations. Dietary Reference Values for Energy – Tables 4, 6 (Males and Females 19+ years). 2011, 9-11.