Balancing your intake of carbohydrate, protein and beneficial fats in all meals and snacks can help you balance your blood sugar levels and reduce your cravings.
Blood sugar levels can impact your energy levels and sugary foods can feed bacteria in the intestines that produce gas, which can result in pain, bloating and maybe diarrhoea.
Read on to find out how to balance your meals and get balanced snack and food swaps ideas. 
Balancing Meals
The BANT Healthy Plate (see below) shows you how to construct a balanced healthy plate from carbohydrate (¼ of plate), fruit and vegetables (½ of plate), and protein (¼ of plate).  Balanced meals can be built one portion carbohydrate, one portion protein, beneficial fats and 2-3 portions of non-starchy brightly coloured vegetables.  Examples of balanced meal composition are shown in the table below.
Portion Size
If you are wondering about portion size, use these guidelines to help you. 
A medium apple for fruit and vegetables (e.g., cup of chopped broccoli), a clenched fist for carbohydrate, (e.g., 2 handfuls rice or dried pasta, spaghetti pasta size of £1-coin, 3 handfuls breakfast cereal, a jacket potato), the palm of hand protein (e.g. chicken breast) or two eggs or approximately three heaped tablespoons of pulses (e.g., chickpeas, butter beans) and two thumbs of healthy fats (peanut butter, cheddar cheese).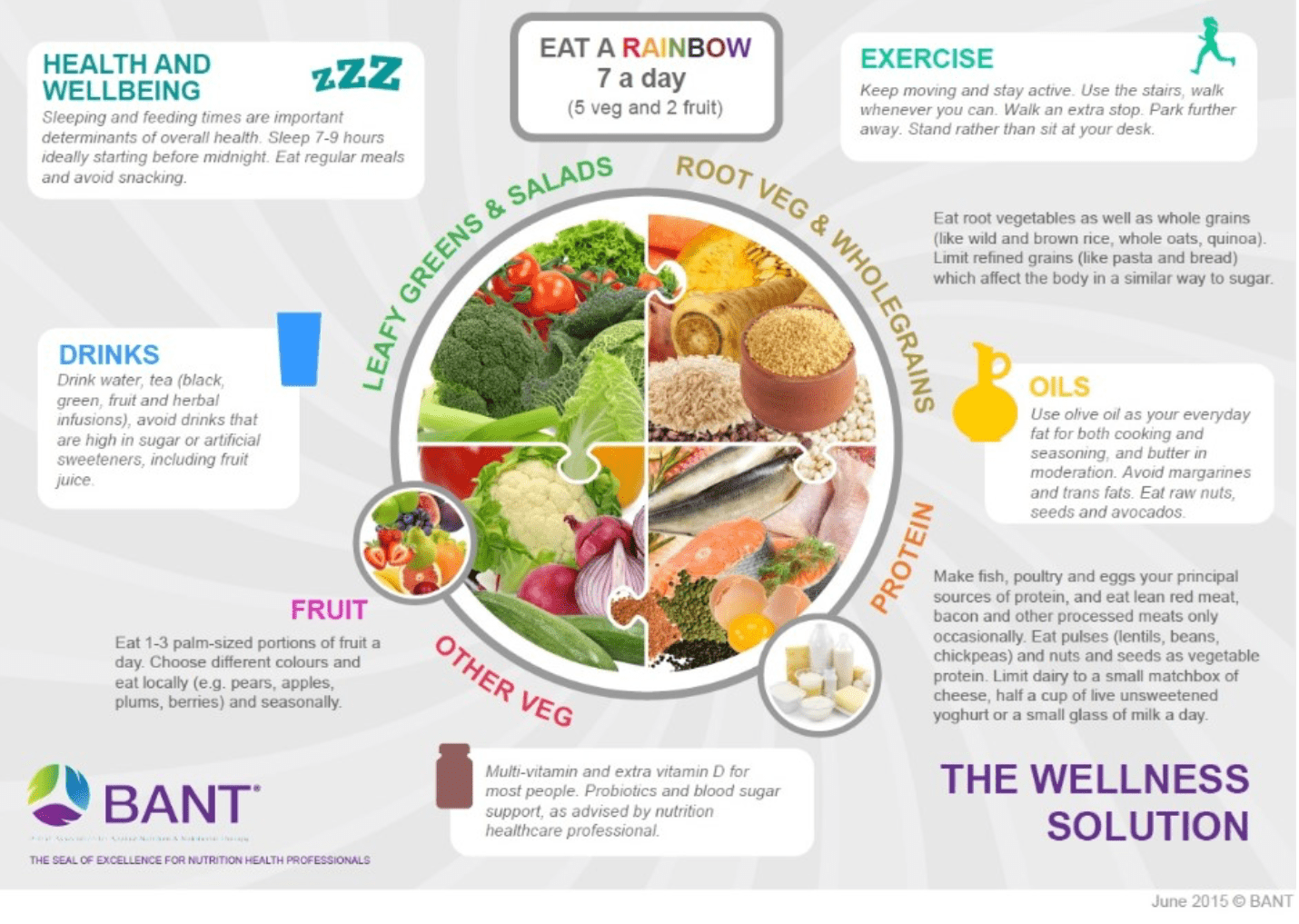 Balanced Snack Ideas
Try these balanced snack ideas mid-morning and mid-afternoon to boost your energy levels.
Multigrain rice cakes (2) and nut butter (2 tbsp.)
Oatcakes (2) and soft cheese (2tbsp.) seasoned with spices and herbs of your choice
A portion of low glycaemic fruit (e.g., kiwifruit, blueberries) and a small handful of mixed nuts
A portion of cut vegetables (e.g., carrot, cucumber, orange pepper), 1 tbsp of hummus. Note: this can often be purchased in 'on the go' portions.
Dark (at least 70%) chocolate, 2 – 4 squares and a small handful of mixed nuts and seeds
Chia seed pudding (1 serving), see recipe below.
Smoothie (1 serving) built from:
1 portion of fruit (e.g., banana, berries, pear)
1 tbsp ground flaxseed
2 tbsp protein (e.g., nut butter or 10g of protein powder – see supplement order form)
1-2 vegetables (e.g., spinach, avocado)
1 cup of plant-based milk (e.g., coconut, almond, oat) or water
Food Swaps
Consider these food swaps to balance your meals and snacks and reduce your sugar cravings?
Refined simple carbohydrate
Bagel
Chips
Potato
Fruit yogurt
White pasta
White rice
Biscuits
Complex carbohydrate
Rye bread
Potato wedges with skins
Sweet potato
Plain yoghurt (cow's milk or plant based)
Whole grain pasta
Whole grain rice or quinoa
Oatcakes, Rice cakes or Corn cakes
Need help?
Working with a registered nutrition practitioner can help you to understand your symptoms and guide you to rebalance your food intake. 
If your symptoms persist or concern you, please contact your GP. 
Disclaimer: This information provides general dietary advice and/or is explanatory in nature.  It is not personalised nutritional and lifestyle recommendations since no health history has been recorded.   If you have symptoms that persist or concern you, please contact your GP.